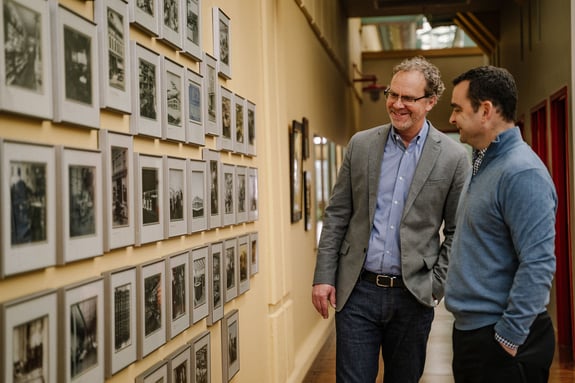 History
Since 1899, Boyce has served government, utility, and school markets with evolving innovations
The Boyce Story
From the start, Boyce has invested in people, communities, and innovation. Established in 1899 by Arthur E. Boyce and Robert P. Campbell, Boyce Systems and its founders helped Delaware County, Indiana establish its roots. Today, Boyce is led by local leaders, Jason Harrington, Casey Stanley, and Jay Moorman, and provides Indiana governments, utilities, libraries, and schools with innovative financial management software paired with excellent customer support services.
Established in 1899

Boyce Systems was born in 1899 by Arthur E. Boyce and Robert P. Campbell. Arthur's father, James Boyce, coined "The Father of Muncie," left Ireland during the potato famine and started Muncie's first gas and electric utility companies. He helped the town of Muncie flourish by inviting manufacturers, including the Ball brothers (visionaries of Ball State University), to relocate there.

The Foundation

By 1912, Arthur Boyce had acquired full ownership, then known for quality bookbinding, printing, forms, and accounting services. County governments, including Henry County, were among Boyce's first clients. From this initial focus, the company developed a business base of municipal governments, utilities, and schools—still Boyce's primary customers today.

Digital Transformation

As computerization began to replace printed forms in the 1990s and 2000s, Boyce Systems acquired Komputrol Software and Keystone Consulting Services to provide fully integrated information and document management systems as a single-source supplier. Specialized, customizable products help organizations manage accounting, financial, and recordkeeping functions digitally, eliminating paper and costly storage.

Continuous Growth

In 1991, Michael Boyce Galliher, a fourth-generation Boyce family member, began leading the company. Over time, Boyce has adapted to meet customers' demands of the evolving market while delivering quality products and excellent customer support. Boyce has been in continuous operation since our founding and holds a majority market share in the state of Indiana.

Strong Relationships

Through the years, we've developed relationships in all the right places. We help ensure our clients are compliant with the U.S. Department of Labor and work closely with the Indiana State Board of Accounts, the Indiana Department of Local Government Finance, and the Indiana Department of Education. We conduct training workshops throughout Indiana and hold memberships in many trade and professional associations.

Innovative Investments

In July of 2021, Muncie, Indiana-based tech leaders, (as pictured) Jay Moorman, Jason Harrington, and Casey Stanley acquired Boyce. Collectively, they brought over 75 years of experience managing and growing profitable software companies and are former Ontario Systems executives. While serving over 1,200 customers, the Boyce team is investing in growth and innovation with new software solutions, excellent customer support, employee-first initiatives, and community stewardship.
Boyce makes financial operations easy for over 1,200 organizations